We're very pleased to announce that we are
Nottingham Hot Property
charity of the year for their event on 17 November!
Hot Property is Nottingham's biggest annual property and construction charity concert, put on by members of the industry.
Since the first event 18 years ago, they have raised in excess of £314,000 for local children's charities, helping to create a positive change to many youngsters' lives, and so we're thrilled to be working with them this year.
Find our more about the event by reading the joint press release –
Nottingham Hot Property Press Release – September 2022
The biggest charity event in Nottingham is back, with Nottingham Hot Property (NHP) bringing together the city's property and construction industry in a quality live gig to work alongside and raise funds for local charity Footprints.
Since it was established in 2004, Hot Property has seen more than 100 people take to the stage and has now raised in excess of £314,000 for local children's charities, helping to create a positive change to many youngsters' lives.
Set to be held on Thursday 17 November at PRYZM, the theme for 2022 is 'football' to link with the upcoming World Cup and celebrate an outstanding year for the sport.
Emma Atkins, Hot Property trustee and business development and marketing manager at headline sponsor Pulse Consult, said: "Hot Property is back and bigger than ever. Rehearsals are now well underway, and we're anticipating a brilliant show in November – especially with numbers such as Gold and Vindaloo on the set list.
"The theme this year is very fitting – with Nottingham Forest's promotion to the Premier League, the incredible Euros win by the Lionesses earlier this year and, of course the World Cup, which kicks off just three days after Hot Property. We're therefore expecting a full house at PRYZM and hope to raise a fantastic amount of money for Footprints."
Footprints is a Nottingham-based charity that provides Conductive Education and other services, to help children with mobility and communication difficulties develop the skills they need to thrive and achieve their potential. It supports babies and pre-school children with conditions such as cerebral palsy that cause motor disorders or motor development delay. The charity also runs projects to help children with Down's syndrome improve their skills in all areas of early development.
Stephen Frew, Footprints charity and business manager, said: "We are so excited for the opportunity to be involved with Nottingham Hot Property and to work with them as a support partner, helping us to raise money. We work alongside support partners, big and small, to grow and develop our service and every penny contributed is utilised to transforming our children's and families' lives."
Ash Cowdrey, fellow Hot Property trustee and director at Chord Consult, added: "We're delighted to name Footprints as our chosen charity for 2022 as they do some fantastic work for both children and their families.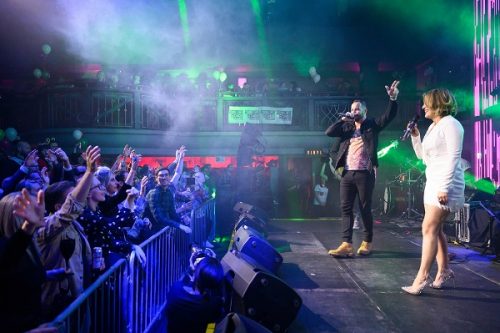 "Hot Property wouldn't be the event it is without its fantastic sponsors – particularly our headline sponsors for this year: Pagabo and Pulse Consult. I set up Chord, along with my three fellow directors, earlier this year and it was a no-brainer for us to support NHP. It really is the highlight of the property and construction calendar, and the entire team is really looking forward to attending – with some even getting up on stage."
The sponsors for this year's event include Pagabo and Pulse Consult as headline sponsors as well as Chord Consult, CPMG, DL Design Studio, Faithful+Gould, FHP, Inspired Villages, Overbury, Samclo, Selcon and Shakespeare Martineau. Joining these are: PR agency Cartwright Communications, design agency RizkMcCayTribe, design and print agency Ginger Root, and the event's media partner TheBusinessDesk.com.