Competition to Design Richard Whitehead's Running Blades!
21.8.23
Footprints launches children's competition to design Richard Whitehead's running blades for the Robin Hood Marathon.
Footprints is thrilled to announce that their Charity Patron, Richard Whitehead MBE, will be starting the Robin Hood Marathon and running the half marathon for their charity again this year.
And to celebrate this, they're running a children's competition to design the running blades, which Richard will run in at the Robin Hood Half Marathon!
All your child has to do to enter is to draw a design for Richard's blades on the printable template, and then take a photo/scan the document and email enquiries@footprintscec.org.
More information and the template can be found on Footprints website on their Events page.
The winning design will be chosen by Richard, and then printed ready to be added to Richard's blades for him to run on 24 September!
Footprints also has some prizes for the winner, and they will have the opportunity to meet Richard at the Robin Hood Marathon!
Get creative and send your entries in by 8 September!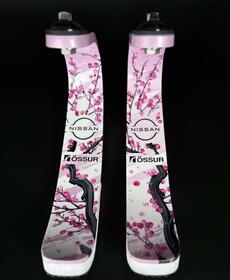 Blade design worn by Richard at the 2023 TCS London Marathon