Footprints is Week Junior Magazine's Charity of The Week
25.5.23
Footprints is delighted to appear in this week's The Week Junior magazine, as their charity of the week.
The photo features Erika, Footprints Head of Service, and Matthew who has attended their Conductive Education centre for a number of years, and currently comes to the after school gym club.
Gym Club is for children who are over 5 years old and is designed to help them develop skills they need to continue to progress in their formal education and broader society.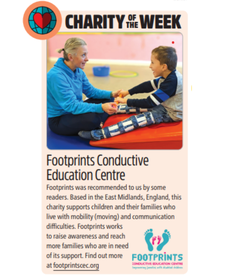 The East Midlands charity is very proud to be featured in the magazine and it's a fantastic way for them to raise awareness of their charity, services and of Conductive Education.
The Week Junior is a weekly children's magazine for 8-14 year olds and has over 95,000 weekly readers across the UK.